Biriani by N.C. Strugnell
16th November 2002 · Food and Drink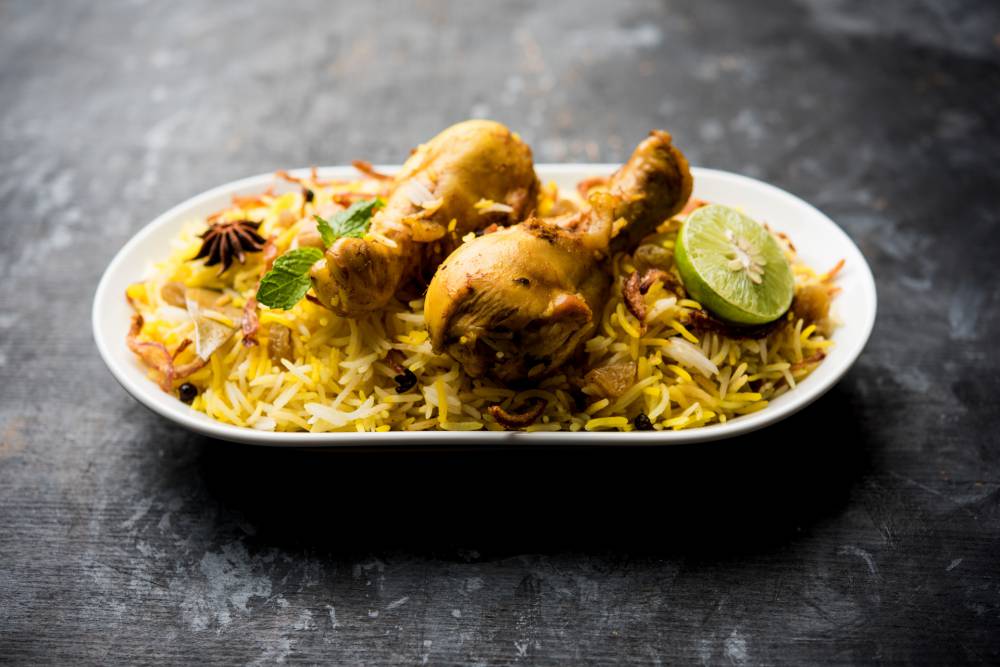 Ingredients
1 lb meat (beef, lamb, pork or prawns)
ghee
1 large onion
1 clove garlic
1″ fresh ginger, chopped
1 tin chopped tomatoes
3 tablespoons lemon juice
2 cups basmati rice
1/4 teaspoon saffron
2 tablespoons warm milk
1/2 pint meat stock (chicken or beef depending on meat used)
Spices 1
1 teaspoon ground cumin
1 teaspoon ground coriander
2 ground cardamoms
5 ground black peppercorns
2 ground cloves 1/4 teaspoon chilli powder
Spices 2
2 ground cardamom
2 whole cloves
2″ piece cassia
2 bay leaves
Method
Fry 3/4 of the onion, chopped with the ginger and chopped garlic until golden.
Add Spices 1 and lemon juice after further minute.
Add meat and cook, covered on very low heat for 1 hr, less if using prawns.
The meat should become very dry and be coated with the mix. Add salt to taste.
While the above is happening preheat oven to 325F, 160C gas mark 3.
Soak saffron in warm milk for 10 mins. Boil rice for 5 mins and strain.
Fry remaining onion in some ghee.
Add stock, saffron and rice and return to boil.
Strain, retaining liquid.
In a flat dish put a layer of half the rice, then spices 2, then the meat, then the remainder of the rice.
Cook in the preheated oven for 1 hr.